Servers are a big part of game development companies. But the crucial question is – Should you manage it in-house or do you have to hand the reins to Server Management Services professionals?
The choice is yours to make.
Here is a rundown of all the advantages you can derive by signing up with a server management services company.
Enhanced Performance: Server management companies help your company enjoy a holistic performance-driven boost. On the intrinsic level, these services result in operational efficiencies while ensuring proper management of data in addition to preventing game malfunctions. These specialized services also help you register higher sales along with increased Return on Investment (ROI). Both these are identified as extrinsic benefits along with the goodwill you will enjoy through higher levels of customer satisfaction.
Reliability: It is through server management services that you as a gaming company can bring in the concept of reliability. Constantly operating through knowledge and expertise, these server management services spare you of the effort to manage backend operations. With the backend operations all covered, you can focus better on developing your gaming creations. This assistance thus takes the form of creative and entertaining games that will eventually have many takers; a "win-win" situation to you and the gamers. The luxury of putting your time to the best use eventually takes the shape of a game that can offer an "out-of-the-world" gaming experience to every gamer.
Technical Inputs: As these companies specialize in server management, they have better know-how of industry standard management tools and practices. Their professional guidance is invaluable information that can make your game perform extremely well without server-side hiccups. Also, in case of any new attacks on server, they would either be able to foresee or they would have a quick fix ready in most cases.
Benefits to Gamers : The flexibility that online games offer to gamers is a star attraction for patronage. In contrast to traditional games, online games are conspicuous of interactions between many players. A server is the backend entity that facilitates these interactions between different gamers apart from awarding points to gamers after a winning move. Servers also help in providing information about new games along with additional features that are incorporated into the progressing game.
With so many backend operations taking place while a game is in progress, a server management services company can become a boon to you and the gamers as well with their expertise and experience. Server downtime & network issues can dampen the excitement of millions of online gamers. By preventing such issues, server management companies can help you in improving and maintaining "developer-user" satisfaction.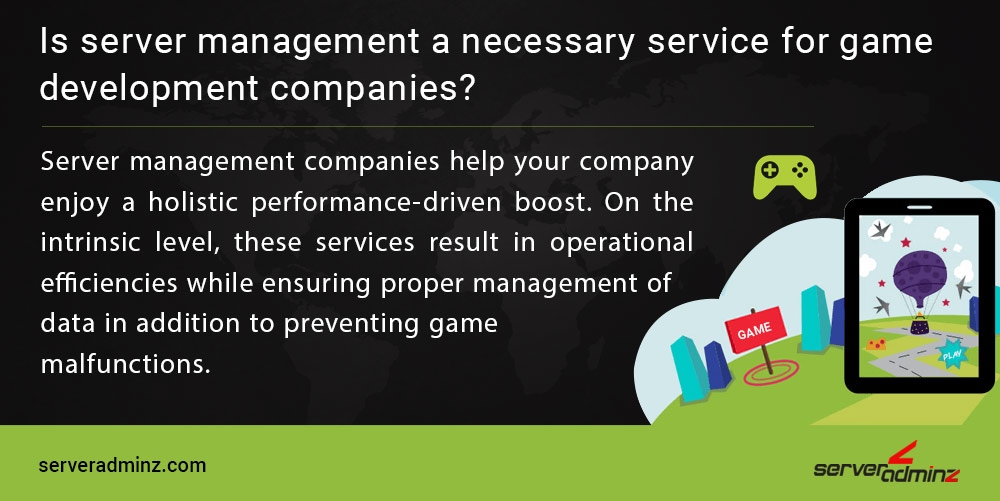 ServerAdminz provides Outsourced 24/7 Technical Support, Remote Server Administration, Server Security, Linux Server Management, Windows Server Management and Helpdesk Management to Datacenters, Hosting companies and ISPs around the world. We specialize in Extended Server Security, Server Hardening, Support for Linux/UNIX/Windows servers, products and services.
ServerAdminz is a server support company specialized in Outsourced 24/7 Web Hosting Support, Remote Infrastructure Management, NOC, Cloud and Enterprise Security Services. With over 10+ of years of experience in working with major Data Centers and ISPs with 130+ experienced technicians, we continue to manage more than 49,000 servers from 85+ countries and has bagged 5 international awards.
If you have any queries regarding server management services,share your thoughts and our representative will get back to you.
[two_third last="yes" spacing="yes" center_content="no" hide_on_mobile="no" background_color="" background_image="" background_repeat="no-repeat" background_position="left top" border_position="all" border_size="0px" border_color="" border_style="" padding="" margin_top="" margin_bottom="" animation_type="" animation_direction="" animation_speed="0.1″ class="" id=""]
[/two_third]