Shared Hosting Vs SSD Cloud Hosting
Shared Hosting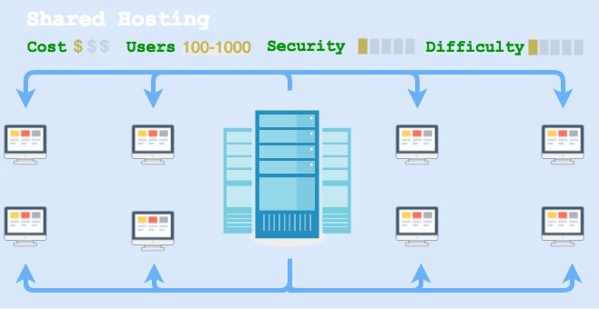 Shared hosting is a type of hosting particularly the term shared refers to share the hosting for loading our websites but in this case we want to wait for loading websites i.e., usually we can see it as a queue.
Mostly the shared hosting having less security i.e., some DDOS attacks may affect our sites. (Distributed Denial of services). When we are signing  to a shared plan we are sharing spaces on server for loading websites. Nowadays in hosting companies, one server will provide as many as 5000 website, on this websites having limited resources because of sharing RAM, CPU and hard drive spaces.
Shared hosting can use small private sectors or allows businesses to expand their client bases on a global level at small affordable cost.
The most defective issue with this is if you are an advanced user it can't able to handle the traffic and also you are not able to configure the way you like.
And even if you are sharing the resources of with someone and someone is busy with the sites at that time you can't get the site because the server is paying attention to the sites , This are the main drawbacks of the shared hosting.
Cloud Hosting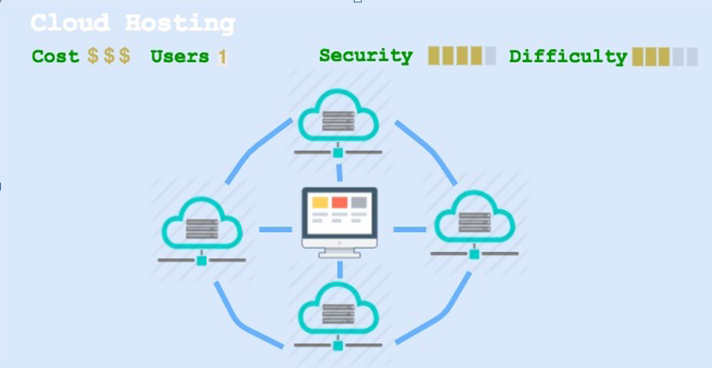 Cloud Hosting another type of hosting it will load websites without any trouble.
It's highly secured it can't affect any DDOS attacks to our sites. The main thing is that it will not affect any malicious problems because of blocking as many requests at a time.
By the diagrammatic representations we can see that cloud computing, it is based on most innovative hosting ideas, that allows unlimited number of machines to act as one system.
Other hostings like the dedicated or shared the same number of machines to act as one system but the cloud hosting is guaranteed by many servers that's the main effective feature of cloud hosting technology.
The major difference is that the speed of data transfer of the SSD or greater than other hosting.
Cloud storage is having large space for the storage. It can store huge amount data so be safe for the backup of data.
Shared Hosting and SSD Cloud Hosting : Differences
By making it differentiable shared hosting makes use of so many users and in case of cloud hosting it will be useable for a single user.
At the level of cost, shared hosting must be preferable for cheap rate when compared to cloud hosting.
When compares to security we prefer only cloud hosting when compared to shared hosting.
ServerAdminz offers cloud management services enhanced with self-style-service provisioned to balance the centralized, policy-based and size planning with the visibility on physical and virtual environments from applications to disk. If you are looking for a service provider specialised in cloud management services, you can contact us on sales@serveradminz.com or +1 (845) 271 7172
ServerAdminz is a server support company specialized in Outsourced 24/7 Web Hosting Support, Remote Infrastructure Management, NOC, Cloud and Enterprise Security Services. With over 10+ of years of experience in working with major Data Centers and ISPs with 130+ experienced technicians, we continue to manage more than 49,000 servers from 85+ countries and has bagged 5 international awards.
If you have any queries regarding cloud management services,share your thoughts and our representative will get back to you.
[two_third last="yes" spacing="yes" center_content="no" hide_on_mobile="no" background_color="" background_image="" background_repeat="no-repeat" background_position="left top" border_position="all" border_size="0px" border_color="" border_style="" padding="" margin_top="" margin_bottom="" animation_type="" animation_direction="" animation_speed="0.1″ class="" id=""]
[/two_third]