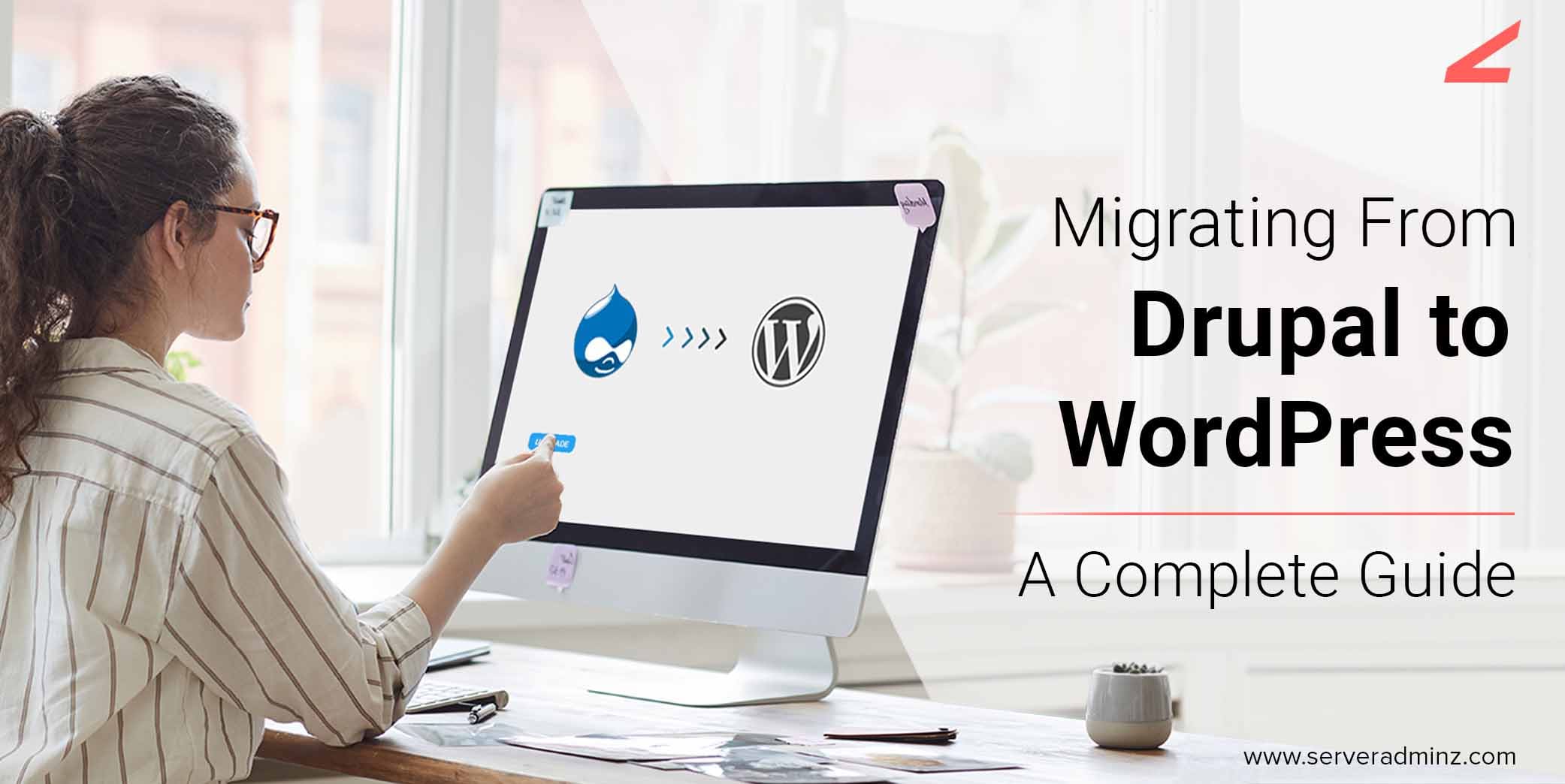 Drupal is the most prevalent content management platform and many industries are using its open-source platform. Drupal has a lot of qualities that make Drupal special among the other content management platforms. Some of its special features include advanced configuration management, complex query handling, delicate user permission handling, and the ability to host a large amount of data.
Though the Drupal offers best features, it has some drawbacks too. That is, the platform may look difficult to handle for people who are not familiar. That is drupal handles the need for technical expertise for using the platform. Generally, there are many significant learning curves for mastering Drupal and software management. Hence, if you are looking for a user-friendly platform, you may use content management platforms such as WordPress.
Why Migrating From Drupal to WordPress?
Drupal offers scalable installations and an extensive community of developers and users. But, as we discussed, Drupal is not easy for those who are newer to the platform. This is considered one of the limitations of using the Drupal CMS. That is, if you face issues while using the website, there are chances to get in stuck with your website and may even find it difficult to troubleshoot the problems. One of the major differences between WordPress and drupal is that WordPress makes your website management easier than a drupal website can do. Even newbies can do website management easier with the WordPress content management platform. Importantly, it is to be noted that the word press can do everything that drupal offers. This is why enterprises result in migrating from drupal to WordPress. 
If you have a Drupal website and facing issues with your website, this is your turn to switch to the WordPress website. You do not have to worry about the migration procedures. The server engineers at ServerAdminz are available round the clock to assist you with the server management services. You may contact our server administrators for the best WordPress management services. With this article, we are explaining how to perform the task of migrating from drupal to WordPress in a simple method.
Before going diving deep into the migration steps, let us discuss the things to consider before migrating from drupal to WordPress.
Things To Consider Before Migrating From Drupal to WordPress
Firstly, if you are planning to migrate your Drupal website to WordPress,
choose a hosting plan that can support multiple websites. So you have a hosting partner that supports multiple websites, it is easy to set up a new WordPress website easily. You may connect to your server migration service provider if you need further assistance.
Taking backups has a vital role in migrating from drupal to WordPress. It can avoid you from data loss. If the migration process has not ended up as you intended, a backup can help you to make the data safe and secure. Since you are migrating from Drupal, you should be more careful than any other migration procedure. That is, Drupal does not have any built-in backup options. Hence you should do the backup manually, which is a time-consuming and most important task.
Steps for Migrating From Drupal to WordPress
Firstly, before you begin the migration process, you should map out all drupal data. Since drupal offers complexity, normal copy and paste may not be a good choice for data transition. Mostly, you should check the publishing dates, authoring information, SEO metadata, images and attachments contained in the website, etc. While exporting the data, you can use a content type or user type. So that you can import all of them to your WordPress easily. Importantly, this is one of the major steps in the migration process since there is a chance that each content or user type may have a different field type.
There are multiple ways for doing the installation of WordPress. And it may depend on your web hosting service provider too. Many web hosting providers give you a chance to download the WordPress site when you create a new website. Or else, you can download a new one from the wordpress.org site. To run the WordPress installer, download the files and documents from the wordpress.org site and you can upload them to your new host. While doing this, they will help you with the installation process. There will be a clear explanation and navigation for you that will help you install WordPress on your own.
Once the WordPress installation is ready, you will get access to the dashboard. Now, use the WordPress plugins for migrating the Drupal to WordPress. You can also adjust the permalink structure before you further proceed with the migration procedure. 
Choose Permalink Structure
In WordPress, you can choose the URL of the website as you wish your website need to see. When you migrate there is a chance of losing your old URL structure. Hence, you may have to choose the permalink structure to create a new UDL for your WordPress website. For this purpose, do follow the steps: Firstly, go to the settings. Then navigate to the permalinks section. There you can get the new URL structure. 
Set Up FG Drupal to WordPress Plugin
Generally, a lot of manual important and exporting of files have needed for migration. But later, new plugins are helping to facilitate the migration procedure more efficiently. One of the plugins that help in migrating Drupal to WordPress is FG Drupal to WordPress. It helps you migrate all page contents, categories, tags, site content, images and SEO data, and metadata. More importantly, the FG Drupal to WordPress is a free plugin to use for the migration process and it offers the premium version.
WordPress Content Settings
For selecting the WordPress content settings, go to Tools and select Import. After that click Run Importer. You have to configure a wide set of options before planning the launch. This is the part you have to choose if the importer needs to remove the existing site content or not. Generally, you may eliminate every test page content from the website that you already have. But in our case, you don't have any of the test pages right now on your website.
Enter FTP Credentials & Drupal Data Parameter
Select how you need the plugin to download the media files from your drupal website. Professionals recommend the FTP option for dealing with websites that have the broad website content. You can seek help from your web hosting service provider for getting the FTP Credentials of your Drupal Site. Test the FTP connection once you get the credentials. You will get a success message if you enter the right credentials. Do not need to worry if you are getting an error message after the testing. Contact your hosting service provider for troubleshooting the issue. 
Once you complete the FTP connection procedure, you will now have to enter the Drupal database parameters. A table will appear on your screen to enter the details of your Drupal website. There you have to specify the database type of the drupal website, port, username, password, etc. Now, you have to test the database connection after filling the required boxes. Check if you are getting a success message. If not, you can find the data by connecting with your web hosting services provider
Now, you have to adjust the post and page settings. That is, you have to point to WordPress to import the WordPress media files. In this stage, you can also choose which images are to be featured for your post and pages.
Remember, the plugins can abort media files that take more than 20 seconds to load. By this, the migration process may get stuck. Since this is a default process, you do not have to worry if your media files have been rejected by the plugin.
Start your migration process by clicking the start/Resume button. A success message will appear once the migration procedure completes without any error. Now, you can modify the internal links. Note that you should do the modifications of URLs only after the migration process is done. Otherwise, there is a chance of getting an error.
Domain Change and Website Designing
You will get every website content of your previous site to your new WordPress. But still, you may have your website with a domain pointing in the wrong direction, that is your drupal site. hence, if someone visits your website, there is a chance that they will end up with one of the pages on the drupal site. To avoid such a situation, you want to make changes to the domain settings. That is, do point your domain to the newly created WordPress website. 
Even though you have a new website with all the contents drawn from the previous website, you are using the default WordPress theme. In WordPress, there is a block editor that allows users to customize the page and post styles according to the user wish. Once you customize your WordPress site, finally, you can now handle the new-looking website of your own and is ready to use.
Wrap Up
Drupal is one of the best content management platforms that offer a lot of features. WordPress has many benefits such as a user-friendly interface, mobile responsiveness, website ranks high on search engines, extended plugin functionality, multiple options offered by themes, flexibility, and is adaptable to the changing requirements. Hence, enterprises are moving to WordPress since it can offer a wide variety of features and possibilities. This article explains the steps involved in migrating from drupal to WordPress website. ServerAdminz offers server migration services to help you troubleshoot the issues you are facing while doing the migration procedures. We have a team of professional WordPress management services providers that can offer round-the-clock support services around the globe.