Servers are an integral part of almost every enterprise in the Internet era. Server management and maintenance is of prime concern to these enterprises. They are the heart and brain of the global Internet presence and data storage of present day enterprises.
Now, servers are complicated machines. Just like a human being requires regular checkups and a maintenance routine, a server also needs to have a routine maintenance procedure. Here are a few things that should be on your checklist if you are an Enterprise IT manager.
Maintain a routine check up
Prevention is better than cure. It's always best to have regular checkups than to wait for some failure to happen. The routine has to be determined looking at how old the server is, what the server environment, the number of servers that needs to be maintained.Maintenance routine can be set as per the schedules set by the provider. If you are worried about having to conduct maintenance sessions at night time or during off days, there is no need to be. Due to virtualization, it is possible to do workload migration so that there wouldn't be down time during server maintenance.
Ensure the server has good air flow
It is necessary that your server remains cool at all times. Otherwise, it might lead to overheating and premature failing of components.To ensure there is good cooling, you need to have proper air flow. Check and remove any dust or other remains that would have accumulated in the inlets, outlets, air duct pathways etc. It should also be remembered that servers shouldn't be cleaned in their rack itself.
Check your server's hard disk health
Disk integrity has to be checked thoroughly from time to time. Problems with the disk can negatively influence stability and performance of the server. This leads to early disk failures.
Do a careful review of the event log
Monitoring event log can provide clues to the overall health of your server, much like human body shows off symptoms of underlying health issues. The fine print of the event log must be carefully monitored during any kind of server inspection.If there are recurring issues, it can quickly be brought under attention and resolved at the earliest. You can set notifications in case of critical errors. Be sure to keep the notifications contact list updated with the relevant contact points.
Ensure timely and relevant updates and fixes
Many a times, issues arise because updates and fixes were not done on time. This can be avoided if IT managers can check and review the importance of each updates and fixes, getting them done on a regular basis. All updates need not necessarily be good for your server. An update with a minor fix could lead to an unpredictable performance issue. Hence it's important to verify updates and confirm before they are done. Updates of important software including all software for production should be set on manual. Only after it is deemed necessary, would the update be made. This would help avoid unnecessary downtime.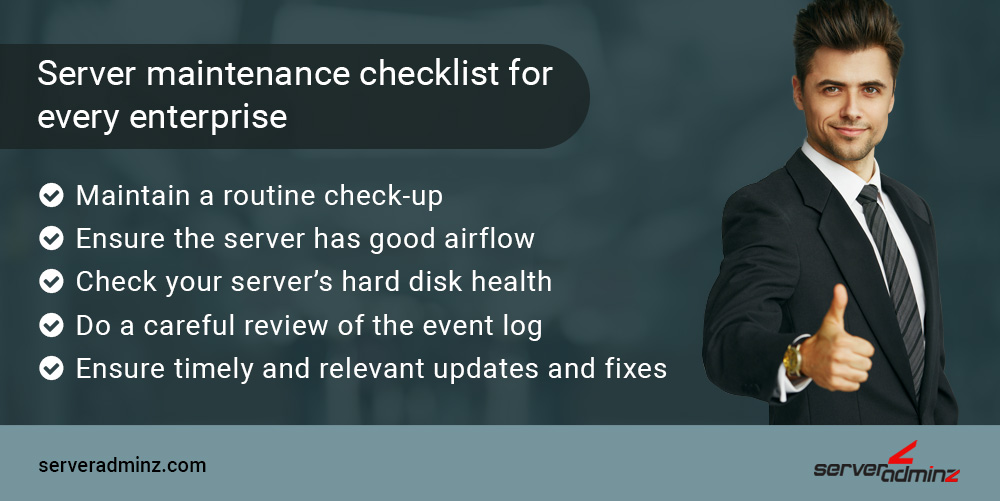 ServerAdminz provides Outsourced 24/7 Technical Support, Remote Server Administration, Server Security, Linux Server Management, Windows Server Management and Helpdesk Management to Datacenters, Hosting companies and ISPs around the world. We specialize in Extended Server Security, Server Hardening, Support for Linux/UNIX/Windows servers, products and services.We provide Unix/Linux/Windows Server Management to Datacenters, large companies and ISPs around the world.If you are looking for a server management service provider, you can contact us on sales@serveradminz.com or +1 (845) 271 7172.
ServerAdminz is a server support company specialized in Outsourced 24/7 Web Hosting Support, Remote Infrastructure Management, NOC, Cloud and Enterprise Security Services. With over 10+ of years of experience in working with major Data Centers and ISPs with 130+ experienced technicians, we continue to manage more than 49,000 servers from 85+ countries and has bagged 5 international awards.