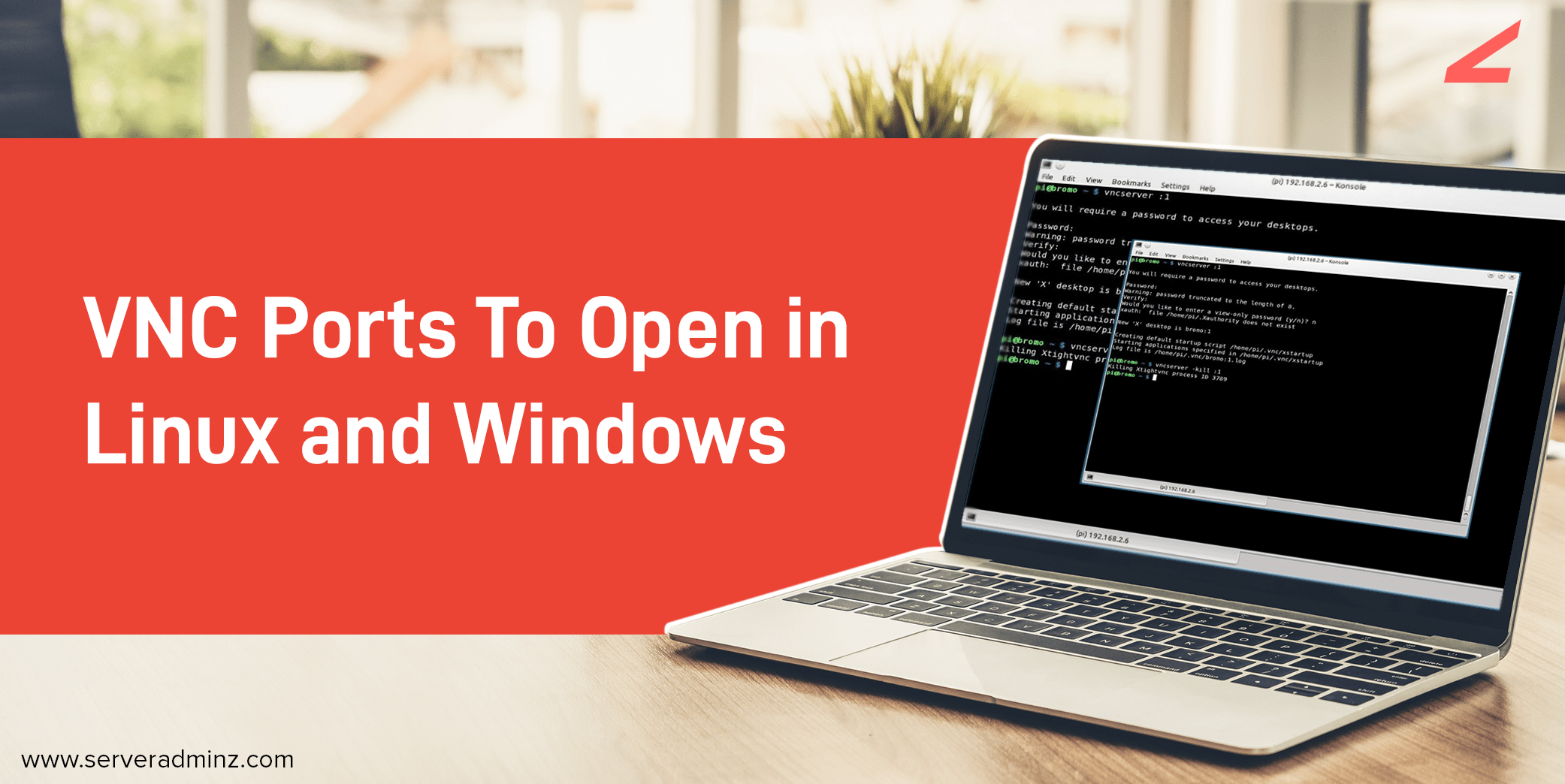 You are one among the many people who searched on the web to find a solution for VNC ports to open or how to enable VNC on Linux/Windows. Being a server management company, we receive lots of queries from our clients related to setting up VNC ports and sessions. With this article, we provide solutions to VNC ports to open in detail that enable you to do it on your own.
What is VNC?
Virtual Network Computing aka VNC is a desktop sharing system that enables you to control another computer remotely. Virtual network computing is beneficial if you need to access files that are contained on another computer that is located far from your zone. For connecting, you only need a TCP/IP connection, a VNC server, and a VNC viewer. To use VNC, you also need to have an idea about the VNC ports.
How to open VNC Ports?
To control another system remotely, you need to first connect to it. For this, a default port is used by VNC. The default VNC port is 5900 and for the web interface, it uses 5800. Additionally, there are various ports that we can use instead of these default VNC ports. For this, you may have to sum up the default port number and user-assigned display number. That is, if your display number is 2, you can add 5900+2 which gives you a port number 5902.
VNC ports to open in Linux
VNC server is also known as Remote Frame Buffer (RFB). You can open VNC ports in either of the two ways.
By forwarding port in the router
You can follow the step for VNC ports to open in Linux by following the steps mentioned below,
Go to the

Router's Web Interface

 

Select the

Port Forwarding

section

Enter your source and destination port (TCP 5900) for creating the new rule for port forwarding

Give the

local machine's IP

as your destination address

Finally, check if the port is listening or not
Firewall Rules
You may have to add a firewall rule in order to open VNC ports in Linux systems. Adding firewall rules will help you access remote systems by opening VNC ports such as 5900.
Related Article: https://www.serveradminz.com/blog/remote-desktop-cant-connect-to-the-remote-computer/
VNC Ports To Open in Windows Using Group Policy
If you are using windows, you will need Group Policy Management Tools, which are part of the remote server administration tools to open VNC ports. It is available from the Microsoft website. To open VNC ports on Windows, follow the given steps.
Initially, open

Group Policy Management Editor

From there, select

Windows Firewall with Advanced Security

Edit your existing group policy or you may create one using the Group Policy Management Tool

Choose the option

Inbound Rules

to open a new inbound rule wizard

Select

Port

and click

Next

Choose

TCP

and give the default port as "5900" in

Specific Local Ports

Select the Action as

Allow the connection

and click

Next

Choose your

Profile

for you from Domain/ Private/ Public and select

Next

Enter a meaningful

Name and Description

if need

Click on

Finish 
After successful completion of the above-mentioned steps, ensure the Group Policy Object is applied for proper computers using the group policy management tool.
Related Article: https://www.serveradminz.com/blog/how-to-disable-dhcp-client-in-windows-to-avoid-network-issues/
Conclusion
Virtual network computing allows you to connect to a remote desktop located far from your computer and enables you to access data and files. For this purpose, we need VNC ports to open where the VNC server helps you connect over the internet. But remember, you can not connect via a VNC server if you are using a different operating system. The default VNC ports are 5900 and 5800 or else you can use various ports other than the defaults. 
This article helps you access VNC servers for Linux and Windows on your own. If you are facing any difficulties with connecting VNC, get in touch with our server engineers. We offer round-the-clock server management services to clients all over the world for an affordable price.