NOC, the acronym for Network Operations Center is all about the technical analysis of issues pertaining to the system along with outages that occur across the networks of customer enterprises. This is a territory around which administrators conduct their support operations majorly aimed at supervising, monitoring and maintaining the telecommunications network.
An essential segment of large enterprises which thrive through large networks along with the operations of large network service providers, the NOC is the fulcrum around which a host of network maintenance operations are conducted on a regular basis. These include: network troubleshooting, all the activities concerning domain name and router management along with software distribution and updating. Along with these primary activities, NOC support also ensures performance monitoring and coordination between connected networks.
For this technical person to perform all the above mentioned responsibilities to the utmost satisfaction of his organizational goals, he should have a thorough understanding of network monitoring protocols like NetFlow, SNMP, syslog and WMI with a previous NOC experience that would make him an asset to any organization that hires his honed skills.
The NOC analyst is hence a professional abreast with all the above mentioned requirements, in addition to having excellent spoken and written communication abilities with a desired level of interpersonal skills.
Some of his prime duties include:
Entrusted not only to perform basic troubleshooting activities, he is also required to escalate critical issues to superior system administrators.
A well-informed professional who oversees all the incidents along with outages and performance alerts. He is also the point of contact for technical teams who will be working towards their respective escalation issues for rectifications.
It is in the hands of the NOC analyst to recognize, identify and list incidents according to their importance so as to be in line with customer requirements and organizational policies.
He is the entrusted professional who collects and analyses the performance reports of various systems, thereby identifying trends in hardware requirements and their overall performances.
Ordained to keep a watchful eye on impending issues and outages that may arise, he is the guardian of the entire network of LAN/WAN in addition to switches, routers, firewalls, servers, storage, VoIP systems along with backup and operating systems; all in all a person who ensures optimum delivery of core network applications.
The single person of contact between customers and third party service providers who will be contacted for issues, outages and troubleshooting operations.
Acts as a liaison between internal and external service and technical teams to create and update articles with the knowledge base.
He is also entrusted to perform basic system maintenance tasks including troubleshooting during system or network downtime, patching operating systems and applications along with executing various scripts.
A link between multiple technical teams engaged in round the clock operational functions of the network so as to efficiently manage high uptime requirements. He may be functional between working shifts ranging from daytime and evening working hours.
He is a learned professional who is responsible for researching and documenting various strategies aimed at mitigating downtime issues while keeping himself up-to-date with the evolving customer technologies.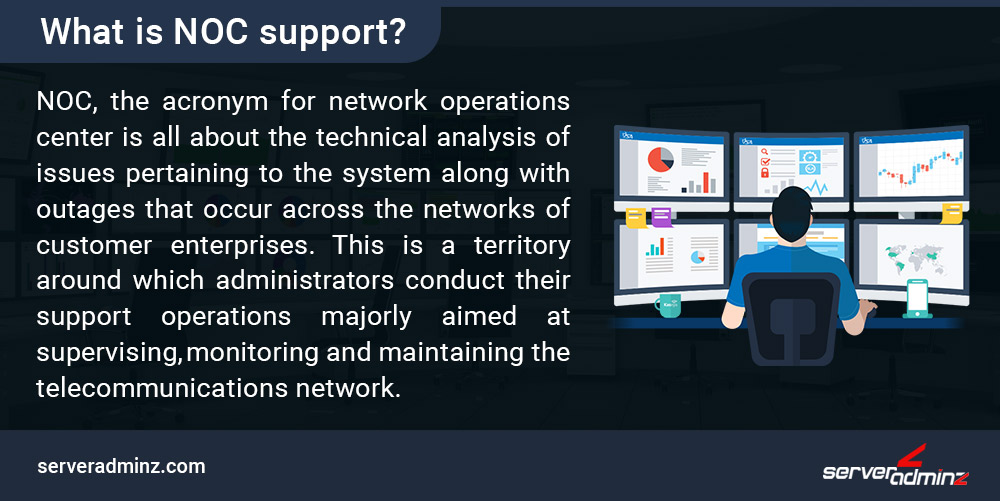 ServerAdminz offers 24×7 NOC Management from dedicated engineers and provide hourly management for project works to increase the margin and thereby allowing your internal team to focus on business strategic and consumer activities. Our State of the art Network Operations Center (NOC) is staffed round the clock by technology experts. We build with world class Network Operations Center, providing unmatched technical support and expertise to ensure safety, security, consistency and quality, no matter where your services are deployed.
ServerAdminz is a server management company specialized in Outsourced 24/7 Web Hosting Support, Remote Infrastructure Management, NOC, Cloud and Enterprise Security Services. With over 10+ of years of experience in working with major Data Centers and ISPs with 130+ experienced technicians, we continue to manage more than 49,000 servers from 85+ countries and has bagged 5 international awards.
If you would like to know more about NOC services, share your details below and our team will reach you.
[two_third last="yes" spacing="yes" center_content="no" hide_on_mobile="no" background_color="" background_image="" background_repeat="no-repeat" background_position="left top" border_position="all" border_size="0px" border_color="" border_style="" padding="" margin_top="" margin_bottom="" animation_type="" animation_direction="" animation_speed="0.1″ class="" id=""]
[/two_third]