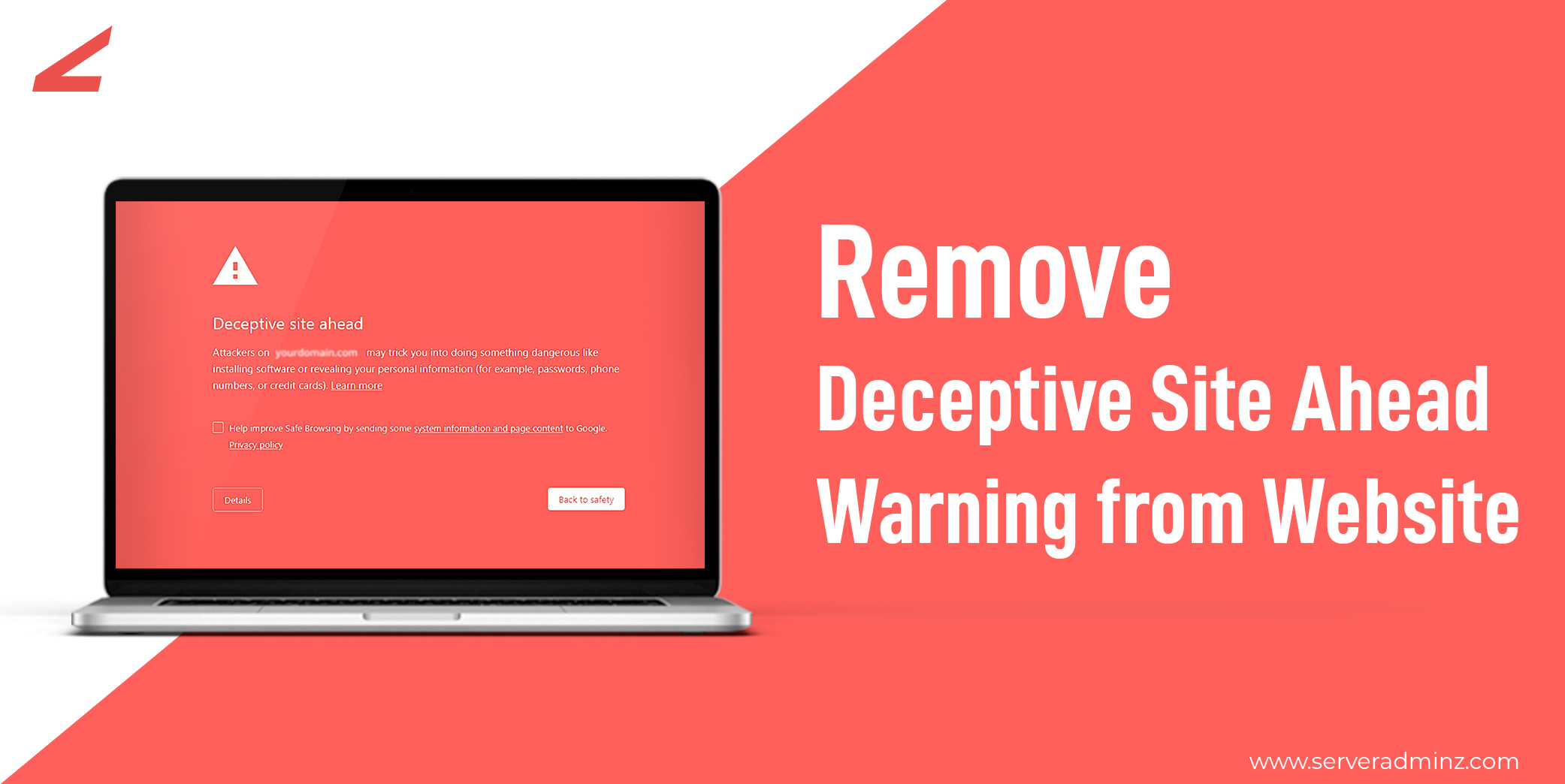 Have you ever come across a red-colored warning message saying " Deceptive Site Ahead" in your browser while trying to access your website? Why is Google showing a warning message like this on your browser?

What Causes Deceptive Site Ahead Warning to Appear?
If the user tries to access a website that is either hacked or contains malware code injected, Google shows warning messages such as "deceptive warning ahead", "site contains malware" or "the site ahead contains the harmful programs". Such websites will be blacklisted by Google safe browsing, which causes the warning message to appear. Google does this to safeguard its users from visiting such unsafe websites and to ensure users' data security.
Apart from a malware infection, there are a number of other reasons as well that cause Google to consider your website as deceptive.
Here are some of the possible reasons that make your site appear Deceptive in front of Google.

Hosting Phishing pages on your website

Phishing is a form of cyberattack in which the attackers gather the personal information of website users such as credit card details, e-mail credentials, etc using some deceptive methods. By adding legitimate-looking pages to your website hackers may try to steal the sensitive information of your users. If your website hosts such kinds of phishing pages, then Google will flag your website as suspicious and will prevent users from visiting your site.


Your website might be linking to some other questionable websites

Violating Google's guidelines by linking to questionable websites such as those having phishing pages hosted on it can have serious consequences. Unnatural outbound links will be considered as spammy by Google and you may even get penalized for such activities.

The website infected with malware

This is one of the most common and possible reasons for Google to show a "Deceptive site ahead warning" message. There are a number of ways by which malware can infect a website. SQL injection attacks, cross-site scripting attacks, Malvertising are some of the most common types of attacks.

Malvertising– If your website is showing ads that redirect users to a suspicious site or if your website loads malware ads, then it is possible that Google will start showing a deceptive website ahead warning to the users.

XSS Attack– The attacker executes malicious scripts on a legitimate web page. Once the visitor access the web page the scripts get executed and can prove to be hazardous. Websites having similar kinds of malicious scripts will be flagged as suspicious by Google.

SQL Injection Attack- The attacker executes malicious codes in the database, thereby allowing them to make changes to your website data and can even destroy the database. This can be another important reason for Google to blacklist your domain.

.htaccess Attack- The attacker hacks your .htaccess file and redirects the users coming from the search engine to the malware website. You will see a deceptive site ahead warning in such kinds of websites as well.

Explore our Enterprise Server Hardening Services to know we can help you to stay protected and prevent the execution of malicious scripts and codes in your server.

Outdated SSL certificates, using vulnerable plugins or themes are some of the other possible reasons that might get your website to be blacklisted.
How to Remove Deceptive Site Ahead Warning Message?
Fixing the issue involves a complex approach. Follow the steps mentioned below to remove your site from Google's list of suspicious websites.
The first step is to identify the exact cause of the issue. You can make use of the Google Search Console tool to identify why Google blacklisted your website. For that visit https://search.google.com/search-console.

Log in using your username and password. You need to have the domain registered and verified to start accessing its features.

If there are any security issues detected with your website, they will be visible under the notification icon.

Or else, you can head to the security issues tab under the security and manual actions section on the left sidebar.

Under the detected issues section, you can find the reason why your website is flagged suspicious by Google.

Try to fix the issue by removing the malware from the page listed in the search console. After that, Request a Review.

Usually, It will review in a day and if the site contents are free from malware it will be white-listed.
Conclusion
With this blog, we discussed the ways to remove the deceptive site ahead warning message shown on your website. Google displaying a warning message on your website is a serious issue. Such warning messages can leave a negative impact on your audience's mind and can affect your website in terms of SEO and brand reputation.
If you need any assistance in resolving the issue of deceptive site ahead warning message, get in touch with us. We are available 24/7 to support you.
Related Articles
WordPress 404 error with pretty permalinks and a white screen when uploading Images – How to fix?
Detecting Spam Sending Domains On Plesk Server Using Postfix