To make a product RAID 5 in Windows, we require no less than three hard drives of a similar limit, aside from the OS drive. Each of the three disks should be unformatted.
 Log in as the Windows Administrator Account.
Then go to >> Start >> Administrative Tools >>Computer Management
Or run >> " compmgmt.csc" at the command prompt or in a Run dialog.
In the Computer Management, click on "Disk Management" Or run 'diskmgmt.msc' at the command prompt or in a Run dialog.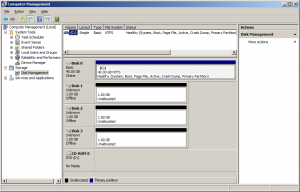 In the Disk Management tool, Right click on each of your new Disks, and select "Online"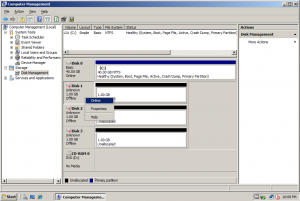 Then "Initialize Disk"
All disks should already be selected ==> Then click "OK"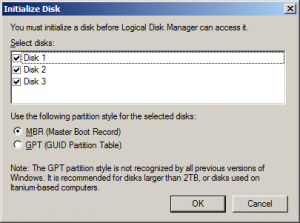 Now right click on one of the drives and select 'New RAID-5 Volume…'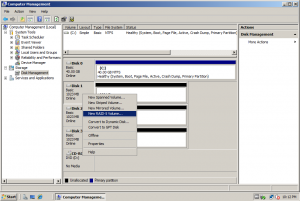 On the wizard's page click on the " Next" to proceed to the Disk Selection.
 On the "Select Disks" screen and click,>> "Add " for the disks you wish to have added to the 'Selected' list. Then click >> "Next"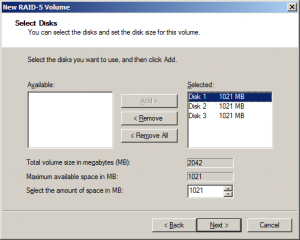 Pick a drive letter for your new RAID5 volume, >> Then click "Next"
 On the 'Format Volume' screen, change the features would like you.
Final stage
This may take some time, Once the process is complete the status will change to Healthy and the RAID 5 volume is ready for use; you do not have to restart the computer.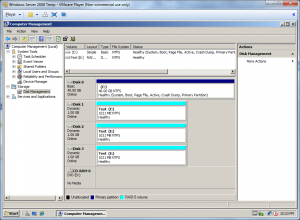 [tagline_box backgroundcolor="description=" shadow="no" shadowopacity="0.7″ border="1px" bordercolor="" highlightposition="top" content_alignment="left" link="" linktarget="_self" modal="" button_size="" button_shape="" button_type="" buttoncolor="" button="" title="" description="If you have any queries regarding software RAID 5 on Windows Server 2008, feel free to leave us a message and our representative will get back to you.
" margin_top="50px" margin_bottom="" animation_type="slide" animation_direction="left" animation_speed="0.3″ class="" id=""]
[/tagline_box]