Tagged as an important and the most widely employed control panel in web hosting servers, the efficiency of a cPanel server management system cannot be challenged. Offering a seamless hosting experience to the customers of web hosts, this control panel like others, calls for regular upkeep and maintenance. Having a watchful eye on the performance of the server thus comes as one of the best ways to prove the adage "Prevention is better than cure".
A sudden crash or a downtime can be just round the corner and such an instance should not only be detected but also addressed in time for your business to thrive. All in an attempt to make the most out of a foolproof cPanel Server Management System, the following are the best practices that should be followed by cPanel server management services.
Staying Abreast With Time
Arguably, the invaluable asset to any organization is the server data. Information that is stored on your server should hence be protected from server crashes. Capable of sending chills down the spine of organizations are the unforeseen incidents of data loss.
It is for this reason that businesses have to safeguard themselves from untoward technical and human interference through constant backups. Featuring an option to protect your data at all times, the best practice concerning the concept of staying abreast with time is to ensure regular back up operations along with having a disaster recovery system in place.
Warding Off the Serious Implications of IP Blacklisting
Many web hosts are constantly troubled by the instances of getting blacklisted in spam databases. Triggering customer complaints regarding mail deliveries, occurrences of blacklisting happen when many unwarranted mails are sent from such servers to other mail servers.
Basically resulting out of damaging scripts, spam mails also occur on account of a faulty bulk mailing software in place. Hence the best practice that needs to be followed is to constantly have a watchful eye on the email queue while regularly scanning the server to identify any discrepancies that call for immediate disaster control and recovery.
Near 100% Service Uptime Guarantee
A server is a haven facilitating multiple services to take place simultaneously; be it the SQL, mail or the DNS. However, one particular configuration error can cause a rippling effect on other services as well, ultimately impairing the service uptime. And to avoid all such situations, cPanel Server Management Services should live by their 99.99% guarantee of service uptime. To make this happen, it is important for these technicians to deliver timely troubleshooting assistance coupled with fixing issues through proficient debugging skills.
Optimum Utilization of Disk Space
With time, the cPanel server will sway a red flag with a condition close to 100% utilization of disk space. Encountering such a situation impairs the functionality of the server majorly through frequent server crashes. It is hence one of the best practices to keep track of  the historical data that can be seen in the form of old log files, archives and core dump files. Having a set of configuring scripts in place that will ring a bell when the disk usage surpasses the preset threshold is a move to efficiently manage disk space.
Performance Tuning of cPanel Server
The practice of tuning the server to ensure an optimum utilization of resources such as CPU, memory, bandwidth, I/O is a step towards benefiting from an efficient server. It is only when all these components are used appropriately that the situation of over-usage can be prevented. And to ensure this favorable condition, it is paramount for server management services to carry out server optimization activities that can eventually boost the overall performance of your server. Regular monitoring of the service performance alongside performing periodic tweaking processes are some of the best practices that can prevent the cPanel server from unwarranted memory consumption and the overuse of resources.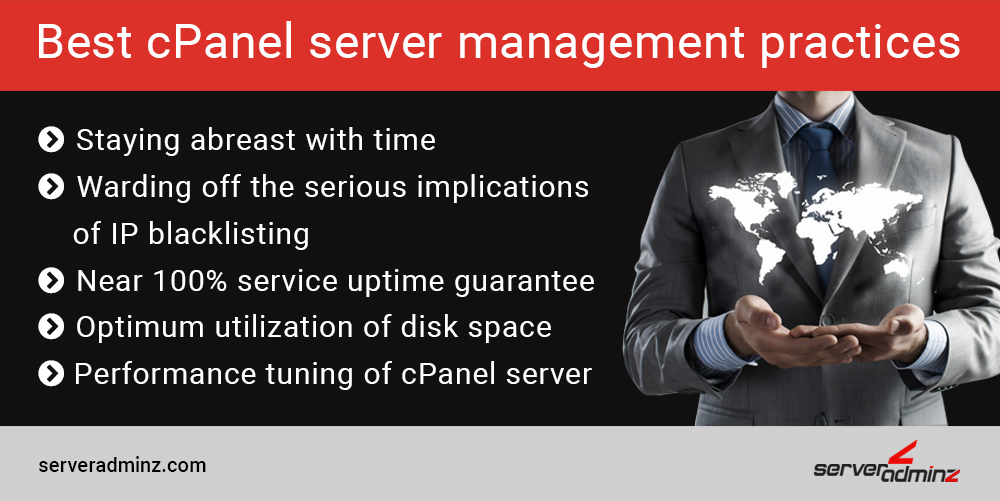 ServerAdminz provides Outsourced 24/7 Technical Support, Remote Server Administration, Server Security, Linux Server Management, Windows Server Management and Helpdesk Management to Datacenters, Hosting companies and ISPs around the world. We specialize in Extended Server Security, Server Hardening, Support of Linux/UNIX/Windows servers, products and services. If you are looking for a service provider specialised in server support services, you can contact us on sales@serveradminz.com or +1 (845) 271 7172
ServerAdminz is a server support company specialized in Outsourced 24/7 Web Hosting Support, Remote Infrastructure Management, NOC, Cloud and Enterprise Security Services. With over 10+ of years of experience in working with major Data Centers and ISPs with 130+ experienced technicians, we continue to manage more than 49,000 servers from 85+ countries and has bagged 5 international awards.
If you have any queries on how to disable upcp cron e-mails, share your thoughts and our representative will get back to you
[two_third last="yes" spacing="yes" center_content="no" hide_on_mobile="no" background_color="" background_image="" background_repeat="no-repeat" background_position="left top" border_position="all" border_size="0px" border_color="" border_style="" padding="" margin_top="" margin_bottom="" animation_type="" animation_direction="" animation_speed="0.1″ class="" id=""]
[/two_third]